Welcome, dear friend, to a journey through the heart of vibrant Montenegro, an undiscovered gem nestled in the breathtaking Balkans. Imagine a country where towering rugged mountains meet crystal-clear bays, medieval old towns rub shoulders with buzzing nightlife, and friendly locals welcome you with open arms. Sound like a dream? Well, it's time to wake up and embrace the reality that is Montenegro – a destinational goldmine waiting to be unearthed.
Montenegro's serenity and slow pace of life juxtapose perfectly with its significant cultural history and effervescent social scene. Picture yourself sipping a native Vranac beside the turquoise Adriatic seas, or strolling down cobblestone lanes in the old town of Kotor, surrounded by the scent of freshly baked 'lepinja', under the gaze of Romanesque churches and Venetian fortresses. Immerse yourself in Montenegrin lifestyle – an enchanting blend of Mediterranean charm and Balkan hospitality, with an extra sprinkle of exotic allure for good measure.
In our exploration of the best places to live in this mesmerizing haven, we're not just focusing on the panoramic views (though trust us, they're worth the hype!). We're delving into the richness of each location, considering factors such as the quality of life, cost of living, job and social opportunities, and unique local features. It's a blend that caters not just to picture-seeking tourists, but to keen explorers and prospective local residents who wish to fully soak in the Montenegrin experience.
So, hold on tight as we whisk you away on an unforgettable tour of Montenegro's enchanting havens – places that promise to leave an indelible imprint on your traveller's soul, places that may very soon become 'home'. Let's embark on a journey to discover captivating Montenegro and unveil the idyllic spots to live in, together.
Why consider Montenegro for living?
Phenomenally rich in its diversity, Montenegro stands as a beacon for those looking to reside somewhere a little bit magical. Nested on the stunning Adriatic coastline, this small Balkan nation is a perfect blend of timeless beauty, rich history, and an authentically welcoming culture. No wonder it's becoming the go-to spot for so many who dare to dream differently about their living arrangement.
A Symphony of Stunning Sceneries
Montenegro is an artist's palette of breathtaking landscapes, each stroke more awe-inspiring than the last. To the west, you're embraced by the crystal-blue Adriatic Sea, dotted with sailing boats lazily cutting through the rippling waves. You'll find sandy and pebbled beaches, fringed with quaint cafes, where locals enjoy into the deep hues of sunset. Inland, mountains rise dramatically, crisscrossed by trails begging for an exploration, and jeweled by age-worn monasteries that watch over serene valleys below. From the UNESCO protected Bay of Kotor to the pristine glacial lakes in Durmitor National Park, Montenegro's geographical tableau is nothing less than a panorama of paradise.
A Journey through History and Culture
From the unbowed walls of Stari Bar's fortress to the Baroque architecture of Perast, every stone in Montenegro echoes a tale of its rich history. Each city is like a living cultural artifact, reflecting influences from Roman, Byzantine, Venetian, and Ottoman empires. Local folklore festivals, like Kotor's Summer Carnival or Herceg Novi's Mimosa Festival, invite you to dance to the rhythms of Montenegro's heartbeat. The Montenegrins, a people as warm and welcoming as their idyllic Mediterranean climate, leave a lasting impression on everybody who sets foot on their land.
Quality of Life and Living Costs
While the beauty of Montenegro might make you feel like you're living in a priceless painting, the cost of dwelling in this Southeastern European haven is pleasantly accessible. Daily groceries, leisure activities, even seaside properties, are available at a fraction of what you'd expect in other European countries. Enjoy affordable, locally-produced food and wine, excellent healthcare facilities, and a secure environment. Coupled with an average of 250 sunny days per year, it's no wonder that the quality of life is high on the list of why so many people are considering Montenegro as their new home!
In Montenegro, every day feels like a holiday, with the added comfort of feeling at home. It's not just about the convenience or affordability—living in Montenegro is about immersing yourself in a life where history, culture, and natural grandeur harmoniously intertwine. So why merely vacation in paradise when you can call it home?
The Top 10 Best Places to Live in Montenegro
Montenegro, a small yet stunning Balkan country, offers a rich blend of history, culture, and natural beauty. Let's dive into the top 10 best places to call home in this picturesque destination.
1. Budva
Budva: The Coastal Gem
Notable features and attractions: Old Town of Budva with its medieval charm, stunning Mogren Beach, and vibrant nightlife.
Lifestyle: A bustling resort atmosphere with a thriving expat community and leisure activities.
Cost of living: Moderate, with affordable housing and reasonably-priced amenities throughout the area.
Pros: Access to incredible beaches, buzzing social scene, and close proximity to other coastal towns.
Cons: Busy during tourist season, and slightly higher living expenses compared to other Montenegrin towns.
2. Kotor
Kotor: A Historic Treasure
Notable features and attractions: UNESCO World Heritage site, Kotor Old Town, Kotor Bay, and impressive fortifications.
Lifestyle: Laid-back and steeped in history, this town boasts a vibrant art and music scene.
Cost of living: Affordable, with low accommodation and food costs.
Pros: Rich historical and cultural experiences, spectacular views, and sense of community.
Cons: Rising popularity may lead to increased costs and tourist crowds in peak seasons.
3. Tivat
Tivat: A Modern Marina Retreat
Notable features and attractions: Luxury marina Porto Montenegro, stunning beaches, and a blossoming art culture.
Lifestyle: Elegant, relaxed living with plenty of opportunities to socialize and network.
Cost of living: On the higher end, with upscale real estate and amenities.
Pros: Luxurious lifestyle, business opportunities, and beautiful location.
Cons: Costly and may feel too polished for those seeking a more authentic Montenegrin experience.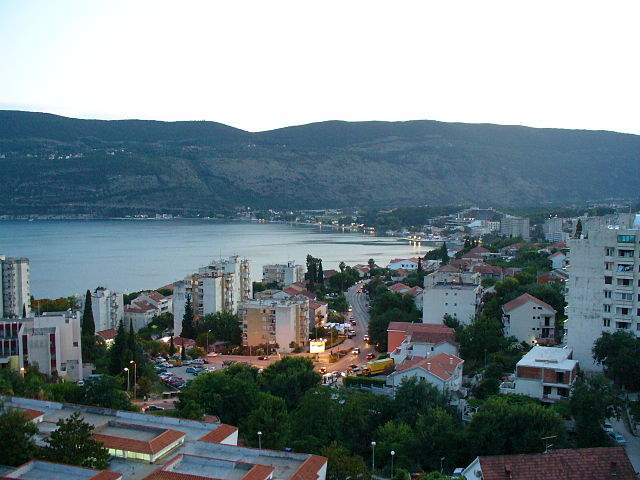 4. Herceg Novi
Herceg Novi: The Fortress Town
Notable features and attractions: Forte Mare Fortress, Herceg Novi Old Town, and lush parks.
Lifestyle: Calm, relaxing atmosphere with an active cultural scene and lush green spaces.
Cost of living: Affordable, with lower living expenses than other coastal towns.
Pros: Peaceful surroundings, vibrant creative scene, and stunning architectural sites.
Cons: Limited job opportunities and slightly challenging terrain for residents.
6 Additional Place to Live in Montenegro
5: Bar – Sun-kissed Beaches & Rich History
Bar is like a treasure chest, brimming with cultural jewels and sandy delights. Imagine opening your windows to awe-inspiring views of crystal-clear waters and stretching your legs on velvety sands. Get a feel of the local scene, while immersing yourself in the vibrant culture that anchors this coastal gem.
Lifestyle: Relish the laid-back beach vibes, mingle with the locals, and indulge in a concoction of Mediterranean cuisine
Cost of living: Feel the financial sunbeams with affordable living costs yet stunning quality of life
Who wouldn't want a slice of sun-soaked living in Bar?
6: Ulcinj – A Multicultural Mix of Elegance & Adventure
Declare ahoy to Ulcinj, a multicultural blend of striking beach glamour and adrenaline-pumping exploits. Feel the pulse of a friendly community, buzzing cafes, and an international flair.
Lifestyle: Be captivated by the stunning views of the dazzling Adriatic Sea, create memories in the enchanting old town, and ride the winds on thrilling kite-surfing sessions
Cost of living: Enjoy the harmonious balance between accessibility and the dazzling coastal life
Prepare to have your heart stolen by this vibrant seaside paradise!
7: Nikšić – Urban Charm Nestled Amidst Nature's Wonders
Nikšić, the artsy city hidden within nature's bouquet, is ready to surprise you. Envision a laid-back urban life, strolling through green parks, visiting exciting bars, and celebrating the creative spirit.
Lifestyle: Savor the picturesque landscapes, lively festivals, and rich history of Montenegro's second-largest city
Cost of living: This urban escape offers an economically tantalizing lifestyle!
Watch Nikšić unveil its blend of city comforts and nature's embrace.
8: Podgorica – A Journey into Montenegro's Heart
Step into the bustling heartbeat of Montenegro, as you embrace the intriguing spirit of Podgorica. The capital brims with charming cafes, bustling markets, and cosmopolitan vibes.
Lifestyle: Delight in a mix of modernity and history, boasting a vibrant nightlife and a medley of culinary experiences
Cost of living: Sway to the rhythm of Podgorica's affordable city life – a true metropolitan delight!
Discover Podgorica, the city where history meets hustle.
9: Cetinje – A Royal Tryst with Nature and Culture
Explore Cetinje, a realm where regal legacies, lush landscapes, and artistic wonders coalesce to create an enchanted experience.
Lifestyle: Unveil a world of cultural riches as you thread through charming cobbled streets, historical attractions, and natural beauty
Cost of living: The calm serenity of Cetinje is paired with affordability!
Immerse yourself in Cetinje, the cradle of Montenegrin culture.
10: Žabljak – The Mountain Hideaway for Adventure Seekers
Find your refuge amidst the spectacular panoramas of Žabljak, a town enveloped by the mighty Durmitor mountains. This wonderland promises adrenaline-fueled escapades and quiet moments of awe.
Lifestyle: Venture into the heart of outdoor bliss with mountain hikes, rafting, skiing, and treasured moments
Cost of living: Revel in the rustic charm of mountain living with a reasonable price tag
Say yes to the beckoning call of nature in Žabljak.
Comparison of the Top 10 Places to Live in Montenegro
Montenegro, a charming Balkan country graced with enriching history, stunning natural beauty, and captivating cultures, offers a multitude of inviting destinations for setting up a home. Let's journey through a comparative exploration of the top 10 places to live in Montenegro, painting a vivid landscape of lifestyle, cost of living, and distinctive features.
1. Budva VS Kotor
Budva, an electrifying seaside city, gives you a taste of the vibrant Montenegrin nightlife with buzzing bars and casinos. Housing tends to be moderately priced and you've got a sea view nearly everywhere you turn.
On the other hand, Kotor, a UNESCO World Heritage Site, transports you back in time with its medieval Old Town. The cost of living is quite reasonable, and the community radiates an artistic, laid-back vibe, creating a calm and cultured lifestyle.
2. Herceg Novi VS Tivat
Herceg Novi, nestled at the entrance of Bay of Kotor, offers a modern lifestyle in a historic setting. With fortresses and botanical gardens to explore, low living expenses, and a peaceful, relaxing atmosphere, it's a haven for nature lovers and history buffs alike.
Contrarily, Tivat is the epitome of luxury living, with Porto Montenegro's high-end marina and amenities shaping the town's modern flair. As you might expect, the cost of living is higher, but for those seeking a blend of elegance and relaxation, Tivat is worth every penny.
3. Podgorica VS Bar
Montenegro's capital, Podgorica, is a thriving metropolis blending Montenegrin tradition with a cosmopolitan lifestyle. The everyday living costs are comfortably affordable, and the city's substantial job market and cultural scene offer a dynamic living experience.
Comparatively, Bar offers a compelling mix of historic charm with modern comforts. This coastal town is slightly pricier than Podgorica, but what it offers in terms of a strolling on the promenade, visiting the ancient Old Town, or enjoying the local eateries, makes the difference in cost worthwhile.
4. Cetinje VS Nikšić
Cetinje, the old royal capital, is a tranquil town rich with Montenegrin history. The cost of living here is remarkably low, and the peaceful, slow-paced lifestyle is ideal for those seeking a quiet, culture-filled life.
Nikšić, the northwestern gem, boasts Montenegro's largest brewery and a serene lake lifestyle. Living costs are approachable, and the natural surroundings coupled with a friendly local community make it an appealing choice for settling down.
5. Ulcinj VS Žabljak
Ulcinj is the heart of sandy beaches and Mediterranean vibes. Expect a higher-than-average cost of living, but in return, you'll enjoy a stunning sun-drenched coastline, an active night scene, and a multicultural atmosphere.
In contrast, Žabljak is the destination for adventurers, being the highest town in the Balkans and the gateway to Durmitor National Park. A lower cost of living, ample outdoor activities, and a community that thrives in all seasons make it an enticing spot for nature enthusiasts.
Choosing the best place to live in Montenegro is like picking the finest gem from a jeweler's treasure trove – the beauty lies in the beholder's eyes. Whatever your preferences, Montenegro offers a little something special for everyone, making it a truly unique place to call home.
Final Thoughts and Tips for Moving to Montenegro
So, you're ready to make the move to Montenegro, are you? Let me share with you some final thoughts and useful tips as you embark on this exciting chapter of your life in one of the Balkans' most enticing gems.
Managing the Move
Relocating might seem like a daunting task, but with some strategic planning, you'll be basking in the Montenegrin sun in no time. Start by prioritizing – determine what you absolutely need to bring and what can be purchased or rented locally. Hiring a reliable moving company with international experience is worth considering for a stress-free, organized relocation.
Remember to keep official papers handy such as personal identification, insurance, and shipping documents – you'll need them. And finally, consider hiring a local real estate agent to help secure your new Montenegrin home. They'll be familiar with local laws and processes, which can save you precious time (and a headache or two).
Visa Regulations
Montenegro is fairly welcoming to foreigners, but like every country, they have rules. Ensure you understand and meet the visa requirements before stepping on the plane.
For short stays up to 90 days, many nationalities can enter visa-free – a bonus for explorers! For longer stays, you'll need to apply for a temporary residence permit. Just prepare ahead and gather all necessary documents such as proof of income, accommodation, and valid health insurance, to make the process smoother.
Note: legislation can vary and change frequently, so always verify this information with the Montenegrin consulate or embassy in your home country.
Embracing the Language and Culture
Immersing yourself in the culture and language can truly enrich your experience in Montenegro. The local language is Montenegrin, similar to Serbo-Croatian. It might seem complicated initially with its different scripts, but don't worry, many locals, particularly in larger towns and cities, speak English well.
Join a language class or try out language exchange opportunities. Learning even basic phrases can endear you to the locals and make daily transactions easier.
Montenegrin culture is inviting and warm, intermingled with historical traditions. Participate in local events and festivities to get a deeper understanding of your new home. Remember, the beauty of travel is not only about discovering new places, but also opening your heart to fresh perspectives and experiences.
Making the move to Montenegro is more than just a change of scenery – it is a voyage into a lifestyle steeped in rich history, natural wonders, and welcoming communities. With a bit of preparation and an open mind, you're all set for your Montenegrin adventure.
Conclusion:
As our journey through the sun-kissed lanes, historic quarters, and sparkling coastlines of Montenegro comes to an end, it's clear we've explored beyond the surface of this Balkan beauty. Our adventure touched on the best places to live in Montenegro, each coupling their unique allure with the captivating Montenegrin lifestyle.
From the electrifying nightlife of Budva to the calm tranquility of Cetinje, the upscale sophistication of Tivat to the nature-laden charm of Žabljak, each spot unveiled its distinct appeal. We ventured into textures of the lifestyles, cost of living dynamics, and the unique feature sets that blend to create the vibrant mosaic of Montenegrin living.
Beyond locations, we navigated the nuances of making the move – the management logistics, visa regulations, and the essential steps to integrate into the captivating culture and language. After all, the spirit of Montenegro lies not just in its places but also in the echoes of its language and the rhythms of its traditions.
As we stand on the threshold of this Montenegrin dream, it's clear that choosing between these delightful destinations is not a matter of better or worse – it's a question of what resonates with your life's rhythm and your heart's desires.
We encourage you to dive further, explore deeper and let Montenegro reveal its hidden dimensions to you. With this treasury of insights, practical tips, and enticing descriptions, your Montenegrin adventure is already off to a great start.
So, dear friends, why wait? Throw open the windows to your dreams, let the Montenegrin sun seep into your world and embark on this exciting path of discovery. Here's to the Montenegrin journey that awaits you – vibrant, engaging, and endlessly fascinating. Commence your Montenegrin adventure; our wish for you is that it's every bit as enchanting as you've imagined.